I like the saying "Being in a garage doesn't make you a car any more than going to church makes you a Christian."
So true, that going to church is not what makes you a Christian, nor is doing ministries, and it's good to be reminded of that... However, at the same time, if you car was parked outside in the elements all the time then maybe it wouldn't do so well after a while...
We learnt a painful lesson recently when we missed 2.5 years of servicing for our car... that when we finally took it to the garage - the type where they fix your car - it cost us an arm and a leg to get all the bits fixed up!! Over time, little damage had turned into major damage because we didn't get it to a garage straight away.
Likewise with Christians, I agree that going to church doesn't make you a Christian, but we need to go to church regularly to hear God's word taught. For it is only by doing that, that God can begin to 'fix' our broken bits. We need to meet regularly with other Christians, so that they can encourage us and we can encourage them, it's a little bit like keeping your car well oiled.
Similarly, regular personal times reading God's word is important -  like petrol in a car. You are still a car without the petrol, but you won't go very far!
I really struggled with having regular QTs when I first had Teaghan. It's taken me a while to find my rhythm and find what works for me in getting a consistent QT going. I thought I'd start off using something short and to the point so that I can get back into the habit first, then move on to 'meatier' stuff later. I have found the below book really really helpful and a little more personally challenging than others I've read.  Each day has a blurb and a Bible verse. I am daily challenged, encouraged, and humbled  by God's word through it. Every night as I read it, I think "WOW!! That's spot on!! Just what I needed to hear". If anyone is looking for a good short devotional. I would highly recommend it!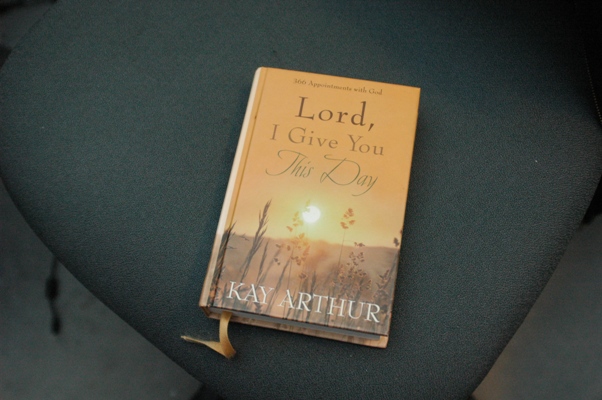 So I've been reflecting on the above, on the importance to be grounded in God's word regularly. Because when we don't, the damage is gradual and most of the time, you might not even notice anything is wrong until something drastic happens (we knew our car needed fixing finally when it wouldn't start... oops!). 
As we head out for missions in the near future, this is something that I'll need to remember. Because I know I can so easily slip back into the old pattern of being too busy for God.
So if you remember, would you mind reminding me of this when I'm 'on the field'?