When my collegue shared at the prayer meeting a few days ago that her grandmother had passed away, it brought back thoughts and feelings of when my grandmother passed away (3/08/12) not long after we had arrived in Malawi.
During that time with alot of things going on with just having arrived in a new country and trying to settle in with the family, I didn't really have the emotional space to process the loss, and it is only now 9 months after having arrived that we feel more settled into life here that I have more emotional and thought space to reflect on the passing of my grandmother. While I felt sad that I was unable to return to Sydney for the funeral, I knew that I had said my goodbyes when I saw her at the hospital several days before we departed for Malawi. Jo and I knew that there was a real possibility that she would pass away soon after we arrive in Malawi. Jo encouraged me to take time out of our frantic last few days to go to see her. Looking back I'm so glad that I did. Using my limited Hokkien mixed with Mandarin that I knew, I was able to talk to her. She prayed for me for the journey that lay ahead of me to Malawi, and I prayed for her, and deep in my heart  I knew that would be the last time that we would pray together.
One of the things that I remember most about my grandmother was her prayerfulness. She had been praying for me even before I was born. She would often tell me the story of my birth and how I was born 2-3 months premature and how God had been gracious to me in letting me live. She would tell me that it was because God had heard her prayers about granting the family peace during my birth that she and grandpa decided to give me the Chinese name "Glorious peace."  Even growing up as a kid in those few short years in Singapore I remember her praying with my brothers and I. Everyday she would sit my brothers and I down and pray for us. She would pray that we would grow up loving God and serving Him with our whole lives; and that at least one of us should serve Him in full-time ministry. I was very young then, but this had made an inpression on me. As a kid you don't think too much of these things until much later in life when you are grown up and have kids yourself, and worry about their spiritual wellbeing. My grandmother had modelled to me the importance of prayer and to be God-dependent in all things.
Another thing that I remember most about my grandmother were her stories.  She was a natural story teller. Growing up she would often tell my brothers and I her life stories, and often there would be a lesson associated with them! She wouldn't just tell them once, she would tell them over and over again over the years... as though she wanted us to not forget them!  She would tell us her conversion story, and also what life was like in Indonesia, during World War II when they were hiding in the mountains from the Japanese soldiers, and how my aunty was born in a cave during that time, and how my grandpa was captured by American soldiers who thought he was a Japanese spy... and more! I have to admit they were quite exciting stories to listen to. I just wished that they have been written down before her passing to capture the details! In all this, my grandma had made a great impression on me by her pioneering and adventurous spirit!
My grandma married my grandfather around the age of 16 and not too long after they were married, they left their village in China and set sail for Indonesia. She became a follower of Jesus one day after being very sick and she prayed to God to heal her. Up to this point she had been a Buddhist and a worshipper of her ancestors, but due to this life threatening illness, she made a bargain with God. Not really sure how she came to know about God but I think it was through missionaries through whom she came to hear about God. She told God that if He healed her, she would commit her life to following Him. And God did heal her. By God's grace and enabling, she was able to keep her side of the bargain to follow Him to the very end.
These two things about Grandma - her prayfulness and her story telling - are important things that I would wish to impart onto my own kids and their kids. I would want my kids and their kids to grow up knowing that Jo and I are prayerful, God-dependent people and that we have family stories to tell them about God's faithfulness in keeping and sustaining us through all seasons of life. These stories are identity forming. The stories my grandma has passed onto me have shaped me into the person I am today, and the stories that I tell my kids will shape them into who they will become. My kids are TCKs (Third culture kids) and so was I to some extent. Being TCKs is confusing... Chinese Australians living in Africa. Are they more Australian than Chinese? Will they eventually become more Malawian than Australian? What will happen to their Chinese identity? I guess it doesn't really matter when they have their family stories to anchor into. Their story is embedded in Jo's and my story and our story is embedded in our parents and their parent's story and our collective stories are ultimately embedded in Jesus' story. It is in His story that we ultimately find our true identity. Our identity is bound up with His, and where we are headed is more important than where we have been. 
Thanks Grandma for your God-dependent faithfulness in following Jesus til the very end, and for your stories that have shaped me to be who I am today. Thank you most of all for sharing Jesus' story.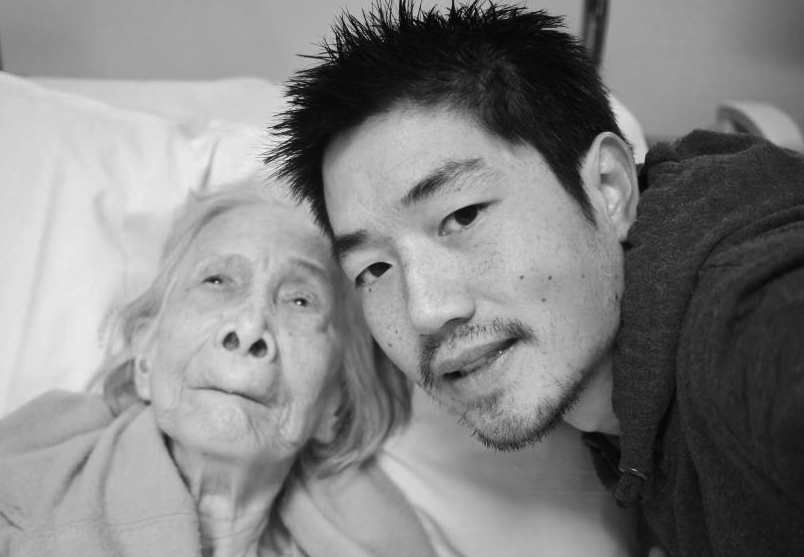 The last time I saw my grandma in hospital before leaving for Malawi.
Pete