| | |
| --- | --- |
| Posted on February 1, 2012 at 5:15 AM | |
To prepare for our move to Malawi... we're undergoing some 'detox'.

Detox from 1st world 'luxuries'.
Not that you can't get stuff in Malawi, but we've been told that they are reeeeally expensive , hard to find, or of bad quality. So it's probably a good idea for us to get used to using less/none of some of our comforts for now.
Here are a few things we're 'detoxing' at the moment:

Pete: Hair gel... so expect to see a fluffier Pete from time to time!
Jo: Pantene shampoo... apparently Palmolive is much much cheaper *sigh*
Teaghan: Her favourite soymilk... she's learning to drink homemade or generic brands
Lucas: ??
Caya: Disaposable nappies (or is that detox for the parents??)

I deliberately didn't pack my usual Pantene when we recently went away on holidays, and lo and behold what did they have at the holiday house? Palmolive! I tried it and it made my hair frizz out at the ends and all matted at the top... detox fail! Tried it 2nd night with a tiny bit of generic conditioner added... detox success! Back home now... just let me enjoy my last two bottles of Pantene then I'll get back onto it


The teacher in me says a reward chart is a good idea for all of us... I need some encouragement
 I think my bribery, I mean positive reinforcement, is going to involve chocolate.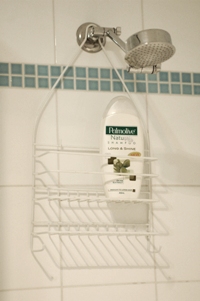 ~ Jo