| | |
| --- | --- |
| Posted on November 9, 2011 at 4:45 AM | |
REALITY
Ok... so reality is starting to sink in...

We're moving to Africa.
We're MOVING to Africa!
We're moving to AFRICA!!
WE'RE moving to Africa!!!!

There's a million things going thru my head right now. Excitement. Fear. Apprehension. Anticipation.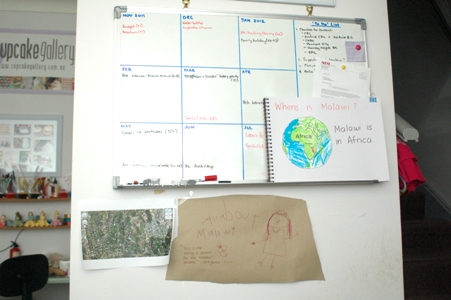 The whiteboard we moved from Pete's study upstairs. It is now our Malawi board with a mere 9 blocks on it, one for each month left in Australia...
LEAVING BEHIND
It turns out that we won't be able to ship a cargo container over as we'd previously thought. It is way out of our budget.  All we can take are what we can fit into our suitcases onto the plane...

It took me a while to digest this and I had a cry over things I would love to bring. Mainly it's the kids stuff, stuff that I was counting on to make it home for them when we arrive in a foreign country, stuff like their bunkbeds (Teaghan just loves her top bunk, everything that is special to her goes up there!), cot, 'treasure chests' (each child has a trunk to fill with their special things to take to Africa), and the train table and picnic table I made for them.... Then there are all my cake tools, mixer (its super heavy), sewing machine, etc...All that represents familiarity in the midst of change.

Since then, we've learnt that there is something called 'unaccompanied baggage' that you can buy. It is baggage that doesn't go on your plane but gets there all the same... YAY!! The cost of doing this is much more affordable. We still won't be taking the beds but we can at least take the treasure chests and my mixer!

MADNESS!
Working all that out in my head was a rather emotional experience.

First there was the beginning of grieving this familiar life that we'll be leaving behind. Then there was the "am I being materialistic?" – though I know in my heart that idolising 'things' is very different to the grief associated with the huge move we're about to make. It's MASSIVE! We're leaving behind the life we have built over the past decade – friends, things, places - to move to a 3rd world country we've never been to! Madness! 

I was much encouraged by a fellow Australian missionary currently serving in Malawi who reassured me via Facebook that it's ok to feel like this and that it would actually be wise to bring a lot of the things you either cannot buy there or would be too expensive. YAY! I'm so thankful for missionaries who understand the emotions we're going thru 


Thankfully, we serve a God who loves and cares for us. God has blessed us tremendously with good things here and we will miss them, but he will no doubt continue to provide us with good things in Malawi beyond our imagination. I'm looking forward to what surprises he has in stored for us! But it is still hard to say goodbye to the familiar and be faced with the unknown. Much like losing someone you love. It is painful, but God provides. He will give us what we need, including strength when times are hard and we miss home along with its familiar comforts.

Funnily, once I'd gotten used to the fact that we can't bring much, now when I look around the house, I actually can't see much that we need to bring! and I'm very much looking forward to seeing what awaits us in Malawi!

Stay tuned for an almighty garage sale closer to July!!
 ~Jo