So... we've made the move into the "Rainbow House' at Morling.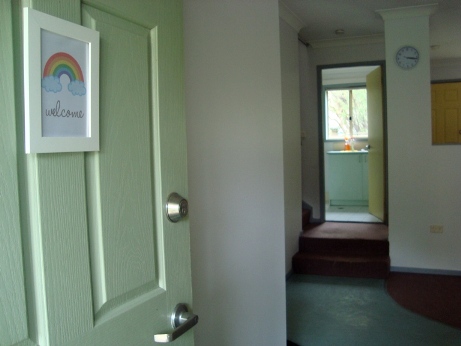 As I sit here at the computer and watch an unidentified bug crawl across my computer desk. I have to remind myself that this place is indeed a blessing from God. In our family devotions a few nights after we moved in, we read about when God gave the Israelites manna – what a timely reminder to be thankful.
Having said that, whilst we are continually thankful for God's awesome blessing of this house, we are finding that it still takes some time to adjust to this new change - physically, emotionally, and socially. The physical move is done, keys of our old place handed over to the new tenants, but it will be a while yet before we're 'home' here. We've moved, now we're just waiting for our hearts to do the same. We're getting there. It's feeling less like we're on camp now...
As mentioned in a previous entry, we've found this move to be very different to any other move we've made in the past. A lot of friends our age are upsizing or upgrading their home at this stage of life. I can still remember the excitement of moving into our own place 5 years ago from a rental property, we were 5 months pregnant with Teaghan and couldn't wait to say goodbye to the old place and make our nest in the new house. But this time, it's a little different.
Even though we had always known that we wouldn't be at our own place for long, with our plans for missions, still we settled with long term home-making in mind. I guess, after all, that is the place we will return to when we're home on furlough in the future. That is the place that will serve as our Australian 'home'.
It was hard saying goodbye to our own place, a place where we set up home and began our journey as parents. It was hard to say goodbye to a neighbourhood that I have grown to love and neighbours we have gotten to know.
In return, here I am in a neighbourhood I don't know. I ventured out to the local shopping centre a few days after we moved in, and drove right through the boom gate at the entrance without getting a ticket! Luckily the boom gate didn't come down on me. On any other ordinary day, I would've found it funny, but with all the emotions of settling into a new house and new area, I just found that a little depressing. Another reminder that I'm not home.
There are new neighbours to get to know. Living in a Christian community is new to me. It was a conscious choice that we made to live on campus to learn what it's like, as it will be a big part of missionary living. I'm slowly adjusting to living in what can at times feel like a permanent Christian camp. Making new friends brings back memories of being in high school. We're learning anew what 'privacy' means here. At times like these, I know I'm truly not an extrovert!
God sent me some timely encouragement thru an old school friend just before our move, a friend who has been thru what we're going through now. These are the things she said that really encouraged me.
-          Home is where you are with your family.
-          With every goodbye comes a hello to something new.
So it's been exciting to say hello to new things here. Such as...
-          The kids playground out the front where all the kids play. It's been great to watch the kids make new friends as we ourselves get to know the parents.
-          New friends. I have met a couple of other mums how also love (making and eating) macarons.
-         Large built-in wardrobes with plenty of space for storage, even though there's no shelving but we're in the process of making some.
-          'Split level' living area with one part behind a low wall that we use as the kids play area. It's what I've always wanted, a place where the kids can make a mess and I don't have to look at it!
-          The powerpoint outside the kids' rooms. This excites me cos we can switch fans on and off in their rooms without going in and disturbing them. Small things make me happy.
-          Small sink in downstairs toilet.  Our downstairs toilet didn't have one at our last place. I found it a bit of a hassle came toilet training time.
-          Screen door at the front. We didn't have one at our last place. We're enjoying being able to leave the door open to let the breeze in, especially since this place has no air con.
-          Better water pressure in the slightly larger shower.  Yay! Nothing like a good shower to make me feel better when I'm feeling down.
... and I'm sure there'll be many more exciting hellos as we settle into this place and continue to discover new things.
To finish, I'd like to share with you this quote I read recently that I really liked:
We're not necessarily doubting that God will do the best for us;
We are wondering how painful the best will turn out to be.
 ~ C.S. Lewis