| | |
| --- | --- |
| Posted on September 26, 2009 at 11:00 PM | comments (0) |
I have been reading my Makki diary entries and reflecting on the experience I had in Ethiopia in 2001/02. This was a 6-7 week short term mission that Jo and I went on with SIM (Jo was posted in the capital city, Addis Ababa while I was posted down in Makki). Makki is a place in Mago National Park in the southern part of Ethiopia where a team of SIM missionaries serve a nomadic people group called the "Mursi". Makki is one of about 5 Mursi settlements (I think?).
I thought i would pick out some diary entries to put on the blog... lessons and thoughts that I learnt there that I would want to remind myself of in the future. Some of them make interesting read! Here goes!
Saturday, 5th January 2002
Woke up at 5:30am today to fly to Jinka! Went to the airport by taxi which cost me 35 bir. It was pretty scary catching a plane down to Jinka especially when you are not familiar with the way people do things. e.g. not knowing where to line up to check in luggage and not knowing Amharic made things even more difficult.
Thank God that I was able to find out about the way boarding flights work in Ethiopia in time. I was getting worried that I would miss my flight. Eventually, got onto the plane and arrived in Jinka about 10:30am! It was quite a view from the plane... seeing the terrain and things from above.
Jonathan picked me up from Jinka with his evangelist friend. We spent some time in Jinka before heading down to Makki. we visited some Mursi believers in prison, visited a sick Mursi believer and his wife, did some shopping in the market, got fuel. Also had lunch... Ingera and Wot! It was authentic Ethiopian cuisine!
On the way down to Makki, out 4WD got bogged in the mud and spent some time getting our hands dirty putting chains on the wheels. As we were doing this, 2 other 4WDs turned up with some tourists from Holland and Belgium. And we got stuck! It was quite an experience ! Talk about being flexible!
Arrived in Makki at around 7:30pm. had dinner and spent some time with the Geddes and Thomas.
Hope Jo is not feeling too lonely up in Addis! I pray that God would really look after her!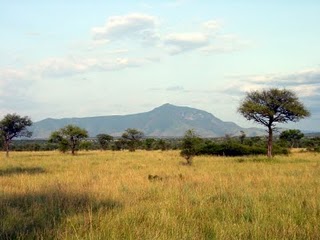 Mount Mago, Mago National Park (Photo courtsey of Thomas Kuhley)