Yesterday we got the first real taste of giving up something precious for our journey ahead.
Yesterday we said goodbye to our beloved family pet - Moonbie the cat.
We had to give her away as we cannot take her to our rental house at Morling, or to Africa when we leave the year after.
Thank you God
We are continually in awe of how God takes care of us  in small steps through things like these. In His perfect timing, he has provided for Moonbie a wonderful new home with a lady who lost her own beloved cat a year ago. Without her, Moonbie would surely be going to either the RSPCA or the Cat Protection Society where she'll probably live in a caged pen until...who knows? We are so happy knowing that Moonbie will be well loved and pampered at her new home.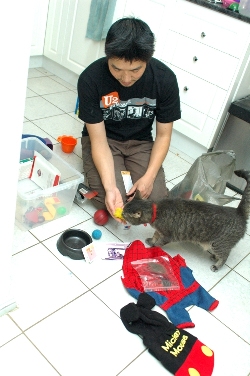 Packing Moonbie's things to go to her new home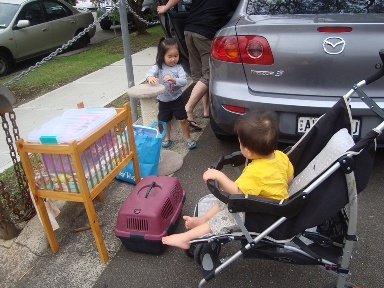 Unpacking Moonbie's possessions at her new place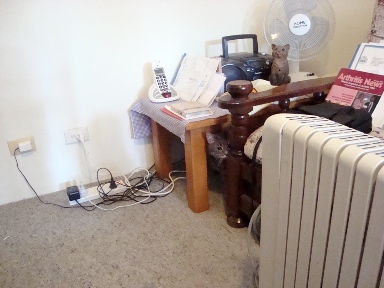 Moonbie exploring her new home
For those of you who love pets, you'll understand how hard it is to say goodbye to a furry member of your family. For those of you who aren't pet people, I'm sure you can imagine how hard it is to say goodbye to any beloved thing - especially an animal that you've loved, nurtured, fed, and included as part of the family for many years.
Early days with Moonbie
We brought Moonbie home 5 years ago as a 6 week old kitten before we had kids. So she was a little like our 'first child'. I even had photos of her in the delivery suit as I was pushing Teaghan out into the world! 
Moonbie has been with us as we've moved into our own place, then later as we welcomed the two kids into our world.
Moonbie has slept on our bed since the day we brought her home. She was great with the kids and never attacked them even when they pulled her tail and yanked her fur. But all I had to do was walk pass and I'll get a flying cat momentarily attach itself to my leg, leaving me with bloody scratch marks! Pete never got attacked because he was the provider of her food and clean litter box.
Emotional goodbyes
It was an emotional time for us as a family as we settled Moonbie into her new home, with the two of us adults trying not to lose it and the kids at first seemingly unaware of what it meant to "take Moonbie to her new home"... that is until halfway through dinner that night, when I mentioned that Moonbie wasn't coming back and reality finally dropped on Teaghan like the flying cat attaching itself to my leg. It came suddenly, it clung on, and it hurt. Poor Teaghy sobbed and sobbed as she wailed: "Moooonbie!! I WANT MOONBIE!!!!". Going upstairs for bath time brought on more tears, as the kids' usual daily routine before bath was to scout out Moonbie (who would usually be sleeping happily on our bed) and squeal at her until she hid under the bed.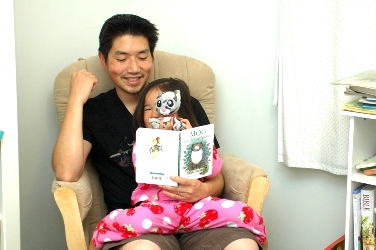 Daddy read Teaghy one of her fav stories on our first night without Moonbie. I found a grey soft toy cat while we were clearing our stuff, which Teaghy took to bed with her.
On top of our own sadness in losing Moonbie, it was heartbreaking for us as parents to watch our little girl experience her first real taste of losing  a loved one. We couldn't help but think how much harder it would be for them to say goodbye to much-loved family and friends when we actually leave for Africa. Thankfully, Lucas is too young to really understand. He knows Moonbie's gone - for once he didn't go looking for her before bath time, but he seems to be handling it quite well otherwise.
Fuel for the journey ahead
We're learning a lot about missions through this... that there's a lot more to missions than raising money followed by a simple plane trip overseas to share the Gospel. There's a lot of seemingly 'non-spiritual' aspects that some dismiss as almost 'non-prayer-worthy', but all of which God uses to teach us about his awesome self and how he's interested in even the small things. It is through these 'small' things that God uses to constantly reassure us that he cares for us and will continue to care for us through our journey.
Saturday will see us say goodbye to a lot of our stuff at our garage sale....
Next week will see us say goodbye to our townhouse and neighbours... 
Goodbyes are never easy, but maybe we'll get used to this?
Trusting in God's strength for this leg of the emotional journey.
~ Jo