Mixture of emotions
We'll be moving to Morling College in a week.
This is both exciting yet sad for us.
We're excited to finally be going on this 'last leg' of the journey in preparation for our move to Africa in 2012.
I (Jo) am excited about what the next 12-18 months hold. 
I'm excited about welcoming our 3rd child into the world a few months after we move to college.
I'm excited about making our new place 'home'.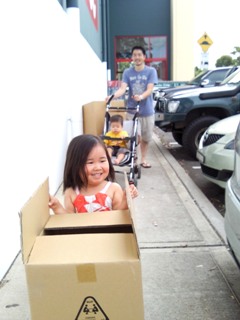 But on the other hand, it is very sad to be moving out of our own place into a rental property we have yet to set foot in. All I know through spying through the windows is that it has 'sunny' yellow doors, 'ruby' red carpet, 'emerald' green lino floors, and no air-con... I have named it our 'Rainbow House', which I think is rather appropriate and is a reminder that God keeps his promises. In the midst of packing and all the emotions that involves, I have to constantly remind myself that we had asked God for this move and he has provided for us amazingly and for that we are thankful!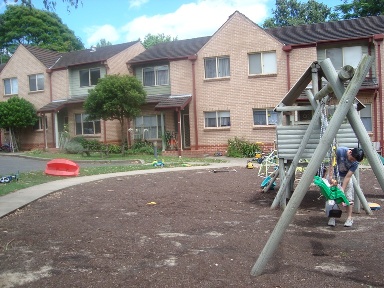 A glimpse of our new place
A move with a difference
I'm finding this move to be very different to any other move we've made in the past.
This time, we're moving into a place that we have only seen through the windows. We didn't do the walk around and pick it out of a list of properties. We trusted in God to provide and he has! Gosh, I can only imagine how Abraham must've felt!!
We're not moving into something bigger and better. Like our last move from a small smelly rental place into our own spacious townhouse.
This time, we're packing with the mindset of moving long term to Africa in the not too distant future. Which has meant major culling of some long-kept keepsakes, eg. sugar flowers from our wedding cake which went into the bin this morning.
Lasts
This month has also been a month of lasts - a lot of it for Teaghan who said goodbye to her beloved preschool and swimming teacher and tomorrow to the cat she has known since she was born. We catch glimpses of how she must be feeling in the midst of packing and throwing away. The other day, she told us pleadingly: "I don't want to give away my princess bike...". We reassured her that her princes bike is going with us to the new house!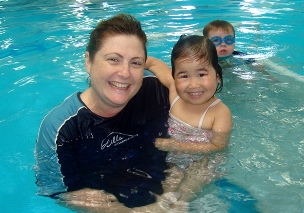 Teaghy with her swim teacher Teresa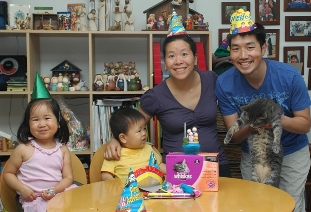 Moonbie's last birthday with us
This part of our mission journey also marked the end of my business The Cupcake Gallery. Which I'm happy about on one hand, to not have to 'work' to meet deadlines anymore and be able to focus on all the changes happening in our family next year. But at the same time it was a little emotional to pack away all my cake things, which included binning a lot of the display cupcakes that have sat on my shelf since the business started 3 years ago. If you are interested, here is the last post on my cake blog.
Timely encouragement from God's word
God sent me a very timely encouragement in my devotions on the night I wrote the above blog and feeling a little sad about giving up the business. Here's a snippet (from Lord, I Give You This Day by Kay Arthur):
"As we think about our goals and dreams for the coming year, let's remember that someday everything on earth will be destroyed. Every record of human accomplishment, every impressive monument, everything made with human hands will be dissolved by fire:



But the day of the Lord will come like a thief, in which the heavens will pass away with a roar and the elements will be destroyed with intense heat, and the earth and its works will be burned up. Since all these things are to be destroyed in this way, what sort of people ought you to be in holy conduct and godliness. (2 Peter 3:10-11)



Only that which was done by the Spirit of God will abide. These will become our treasures in heaven - the things we have done by the Spirit in accordance with the Word of God and for God's glory.




Oh the eyes of our understanding would be open so that we would not give our time and energies to accumulating earthly treasures!........."
What a great encouragement and timely reminder as we pack up our possessions and achievements from this house that my focus is not to be on the things of this earth! Even as we head towards missions, it is a great reminder also that our works on the mission field is not what counts, but our obedience to God and devotion to Him in bringing him glory.
When I stop and think about all that we've giving up, it can seem a little overwhelming... but because the journey ahead is so exciting with God leading the way, surprisingly these things don't seem like 'sacrifices' at all. They weren't ours to keep in the first place. God lent them to us for a while and it's time for him to take those things back and upgrade them for something better he has in mind! What a wonderful way to live!!

'Rainbow House' - bring it on!!!