Missionaries are poor.
Missionaries live with limited resources.
'Good' missionaries live in mud huts.
'Good' missionaries suffer.
.
.
.
Or so some may think. Or expect.
Sure, we have had to give up a lot to move here to Malawi. Some we have slowly learnt to live without, and some our hearts still ache for everyday. Living here in Malawi has come with sacrifices but let me share a secret with you - God has been blessing us tremendously since we got here, way more than we could ever have imagined. 
So much that sometimes we feel a bit spoilt and underserving!
The temptation is great to try to uphold this 'poor missionary' image, to hide times when God blesses us immensely with things that we may even feel guilty about, esp living in the midst of poverty. Hey, we don't want people to think we're having a holiday, right? People expect to hear stories of suffering, right? They'd be more interested in praying for us if they thought we're doing it tough, right?? Why are we enjoying ourselves? Aren't we supposed to be 'suffering for the Gospel'?? The more suffering they think we're going through, the 'better' a missionary they'll think we are, right? WRONG.
The more I reflected on God's blessings over the past 2 months, the more I was convicted that it is not right to share selectively, to share only the sufferings but not the joys, or up-play the sufferings and down-play the blessings, because that would not be an honest account of how God is blessing us. Small blessings, big blessings, they all help paint a beautiful picture of the awseomely generous and gracious Father that he is. Imagine if the writers of the Bible kept all the best blessings a secret. I think we might all be in a bit of trouble! 
Don't get me wrong. There are defintely times of trials and 'suffering', It is all part of the life of someone who follows Christ. I have had my bad days, days where I wished I was back in Australia, I have had my cries. But above all, God sustains us and he is good, and for now, I just want to give him the glory for that!
We want people to know how awesome God is and how much he has looked after us here, way beyond our expectations. All glory be to him!
So with that, let us share two paticular special blessings with you: 
...Gelato Carnival. A place like no other that has given our kids something to look forward to on Saturdays, something to distract them from missing ther usual Saturday-with-Grammy routine. They have delicious gelato there (the dark chocolate gelato is so good that I have no choice but to go off my sugar-free diet on Saturdays!). They have kids rides (mini-train, mini ferris wheel, 'flying dinosaurs') for 200MKW a ride, less than AUD$1. They have a jumping castle and a playground.
In a city where there's not a whole heap for little kids to do to have fun (no Westfields centre court shows, no holiday shopping centre kids crafts, no Lollipops playland, no parks with playgrounds, no McDonalds, etc), it has been a massive blessing to have this place nearby (5 mins from our house). We discovered it not long after Teagan said: "I want to go back to Australia, there is nothing fun to do here". This has been a real God-send. A huge blessing. Such a great feeling to see the kids laugh and enjoy themselves again.
... The kids' school - St Andews International Primary School. There weren't many options when we were looking for a school for the kids. We chose SAIPS because a lot of the other SIM kids also go there so would make carpooling easier when there is a fuel shortage. We didn't know a lot about the school but we trusted God with it and left it in his hands. One of the things that we were sad about when leaving Sydney was the thought that our little Aussie kids won't have the opportunity to learn to swim here in Africa, either due to the lack of facilities (our ignorance!) or our lack of funds. We counted that as one of the sacrifices of serving God in Malawi and left it with our heavenly Father, knowing he knows our hearts and our desires. Little did we know that SAIPS has two swimming pools! A lap pool and a beginners pool. Swimming is part of the curriculum with Lucas having one lesson a week in nursery and Teaghan two lessons a week in Year 1. WOW WOW WOW! A blessing way beyond our dreams! The kids are loving school and have not cried a single tear - most uncharacteristic of our kids! A huge blessing and huge answer to the prayers of many.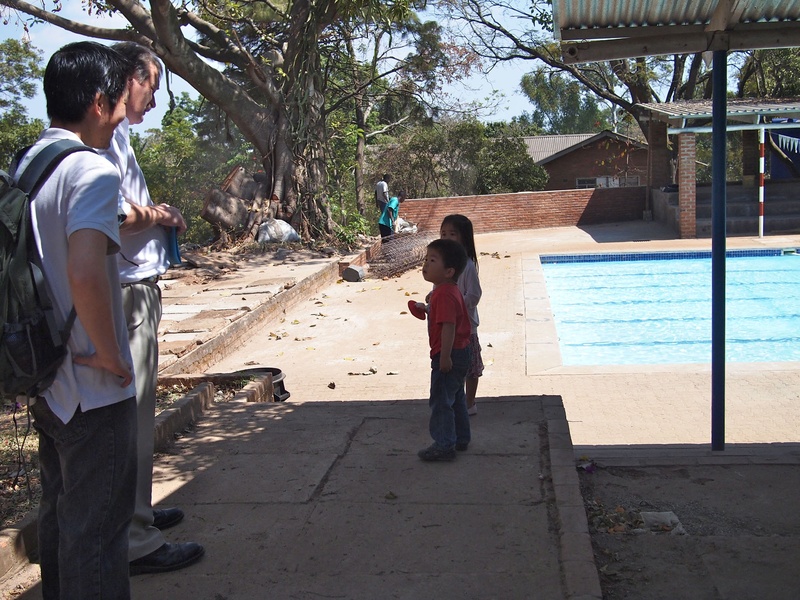 Do we want to satisfy people's expectations with stories of 'suffering missionaries' or surprise people with stories of God's goodness?
Some say that living as foreigners here in Malawi is like living like a king.
I say living anywhere as servants of Christ is living as children of the King! He never fails to care for our every need with lots of surprises along the way
I hope that has added a stroke or two to your own painting of our awesome provider God!
~Jo