| | |
| --- | --- |
| Posted on October 31, 2011 at 7:55 AM | comments (1) |
Hooray!!! We've been officially appointed!!
We received The Official Letter today stating that we are now appointed as members of SIM to serve in Malawi in the role of Youth Ministry.
The end to a 2-year long process... and the beginning of our next 10 years!

When we first came across the  'Youth Ministry Coordinator' role, I thought it would be perfect for Pete, and perfect for us as a couple once our little family is settled and I can get involved. Pete has had years of experience working with youth at our old church, serving as the 'youth convenor' for a number of years.
However, Humble Pie Pete on the other hand was not so sure... with reasons like: "I'm not a great speaker" or "I'm not very 'youthy'"...

A reassuring word from God #1

Soon after we started consideirng the youth role, I was at my OT lecture at college and the lecturer was speaking on the book of Jeremiah. Jeremiah felt underequipped to do what God was calling him to do and was basically told by God that "hey it's not about your abilities but mine!"

So I texted Pete a picture of that passage in the Bible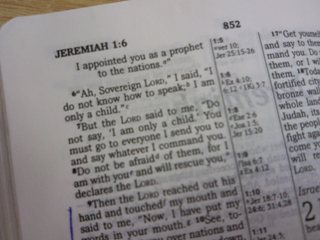 Pete is now really excited by the idea of working with the African youth.

But after we came out of the final SIM interview where they asked Pete why he thought he would be good for the role... and I was questioned on all manner of my flaws, we were back to feeling not so confident... While it was a great interview and we both shared honestly about ourselves, we did kinda come out feeling a bit doubtful as to whether we'll make 'good' missionaries.

A reassuring word from God #2
So the following Sunday at church, the above mentioned OT lecturer Marc Rader happened to be the guest speaker at our church Dural Baps, and lo and behold what did he preach on?? The SAME Jeremiah passage!!! You can listen to the sermon here.

He spoke about how we can often make excuses not to or feel a lack of confidence to do what God has called us to do, when all God is after is not our abilities but our OBEDIENCE. In fact, when confronted with our inabilities/excuses, in a nutshell, God says "I don't care" because it is about HIM and not US. All he wants is our obedience.

WOW. What a timely message for us!
And so it was with much encouraged hearts that we received the letter of appointment in the mail today.

We are ready, Lord, to serve you in Malawi! Use us. Equip us. Shape us.